Accounting Products
Hyper Action Μισθοδοσία
Pasteque Electronic & Computer Systems
The most complete application of the market for Organized Accounting Offices gets Excellent in the Valuation of Payroll Applications and provides you with the possibility of upgraded monitoring of the entire payroll circuit for an unlimited number of employees and companies with the most user-friendly and valid market process.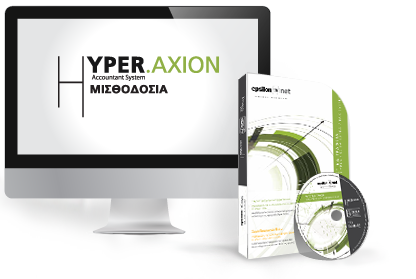 Immediate Support, Labor Guidance
Immediate response to all changes in legislation with application upgrades via the internet. Valid, timely and immediate service from the highly specialized team of tax and technical support every working day (09:00 to 21:00) and Saturday (09:00 to 14:00). Epsilon Support 24 hours a day via Internet.
Automated processes - Internet submissions
Η Δυνατότητα υποβολής μέσω internet των Οριστικών δηλώσεων ΦΜΥ, ΑΠΔ, ΠΣ ΕΡΓΑΝΗ καθώς και εξαγωγής αρχείων εισφορών σε Λοιπά & Επικουρικά Ταμεία, εντολών προκαταβολών και εκκαθάρισης πληρωμής σε όλες τράπεζες σε συνδυασμό με την ταχύτητα διεκπεραίωσης όλων αυτών των εργασιών μηδενίζουν τη γραφειοκρατία.
Full Coverage of all employment relationships
Η μοναδική εφαρμογή που καλύπτει αυτοματοποιημένα κάθε κατηγορία εργαζομένων χωρίς καμία παραμετροποίηση: Έμμισθοι, ημερομίσθιοι, ωρομίσθιοι, συμβάσεις ορισμένου ή αορίστου χρόνου, μερική ή εκ περιτροπής απασχόληση, τεκμαρτά ημερομίσθια, ειδικές περιπτώσεις ασφαλισμένων πχ σπουδαστές ΤΕΙ, μαθητές ΟΑΕΔ κλπ, εργατοτεχνίτες οικοδομικών επιχειρήσεων, ξενοδοχεία, ελεύθεροι επαγγελματίες, ειδικές περιπτώσεις επαγγελματιών πχ ξεναγοί, φασόν, καλλιτέχνες, διάφοροι τρίτοι κ.ά.
Διαχείριση Σ.Σ.Ε., Ατομικών & Επιχειρησιακών Συμβάσεων
Συμβουλευτική καθοδήγηση για τον χειρισμό συμβάσεων που έληξαν, καταγγέλθηκαν ή είναι σε ισχύ με παράλληλη διασφάλιση του χρήστη από παράνομες μειώσεις μισθών. Πλήρης διαχείριση όλων των Συλλογικών Συμβάσεων Εργασίας (συνεχής & αυτόματη ενημέρωση μέσω Internet) με αυτόματη αναπροσαρμογή μισθών με βάση τις αλλαγές των Σ.Σ.Ε. Αυτόματη κατάργηση επιδομάτων (Ν.4046), Ενσωμάτωση Επιχειρησιακών Συμβάσεων (Ν.4024). Πλήρης συνδεσιμότητα με Ι.Κ.Α., Σ.Ε.Π.Ε., Ο.Α.Ε.Δ., Τράπεζες, καθώς και με όλες τις εμπορολογιστικές εφαρμογές. Πλήρης εναρμόνιση με τον κανονισμό GDPR. Άντληση Σταθερών Στοιχείων Εργαζομένου από Ε.Φ.Κ.Α.
Modern reward system management
Αναβαθμισμένη Διαχείριση των Υποσυστημάτων Αδείας, Ασθενείας, Πρόσθετων Αποδοχών, Παροχών, Προκαταβολών  σε συνδυασμό με εργαλεία διαμόρφωσης Πολιτικής Μισθών παρέχουν μοναδικά προνόμια σε όσους επαγγελματίες επενδύουν στην ποιότητα των υπηρεσιών που παρέχουν στους πελάτες τους.
Μαζικότητα, Automation, Customization
The massive actions for all the employees of all companies in combination with the most reliable and legal process of the market are a unique advantage for each user. The unlimited customization possibilities come to cover, however, every special need that may arise, facilitating each user to develop into an advanced consultant for each business.
Completeness of prints - Ability to design & customize
The unlimited options of standard prints, payroll statements and all relevant Public forms with additional ability to design and customize prints, cover the most specialized needs of each company
Complete window and friendly environment
The most complete and most simplified window program for small and medium enterprises and accounting firms in terms of how to manage Payroll by minimizing the time of familiarization and output of results from the application, especially when there is a need to process actions for a large number of customers - companies.