Accounting Products
Hyper Axion Payroll
Pasteque Electronic & Computer Systems
The most complete application of the market for Organized Accounting Offices gets Excellent in the Valuation of Payroll Applications and provides you with the possibility of upgraded monitoring of the entire payroll circuit for an unlimited number of employees and companies with the most user-friendly and valid market process.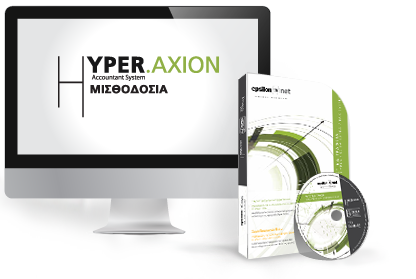 Immediate Support, Labor Guidance
Immediate response to all changes in legislation with application upgrades via the internet. Valid, timely and immediate service from the highly specialized team of tax and technical support every working day (09:00 to 21:00) and Saturday (09:00 to 14:00). Epsilon Support 24 hours a day via Internet.
Automated processes - Internet submissions
The Opportunity for the internet of Definitive statements, payroll tax, FROM, CC ERGANI as well as export files contributions in Other & Auxiliary Funds, prompt payments and clearing of payment in all banks in conjunction with the speed of handling all of these tasks eliminates the red tape.
Full Coverage of all employment relationships
The only app that covers automated each category of workers without any customization: Salaried, workers, hourly, contracts for a fixed or indefinite time, part-time, rotating jobs, imputed wages, special cases of members of eg students COLLEGES, students OAED, etc., held blue-collar jobs building companies, hotels, freelancers, special cases, professionals e.g. tour guides, under contract, artists, various parties, etc.
Management P.P.E., Individual & Business Contracts
Advisory guidance for the handling of contracts expired, terminated or is in effect while ensuring the user from unlawful deductions of wages. Full management of all Collective bargaining Agreements (continuous & automatic update via the Internet) with automatic adjustment of wages on the basis of the changes of the P.P.E. Automatic removal allowance (N.4046), Integration Of Operational Contracts (N.4024). Full connectivity with I.K.A., P.E.E.E., The.A.E.D., Banks, as well as with all the εμπορολογιστικές applications. Full alignment with the rules of GDPR. Pumping of Fixed Assets Employee from E.F.K.A.
Modern reward system management
Upgraded Management of the Subsystems of a Licence, health Insurance, bonuses, Benefits, Advances in combination with modeling tools that Wage Policy is to provide unique benefits professionals who invest in the quality of the services they provide to their customers.
Μαζικότητα, Automation, Customization
The massive actions for all the employees of all companies in combination with the most reliable and legal process of the market are a unique advantage for each user. The unlimited customization possibilities come to cover, however, every special need that may arise, facilitating each user to develop into an advanced consultant for each business.
Completeness of prints - Ability to design & customize
The unlimited options of standard prints, payroll statements and all relevant Public forms with additional ability to design and customize prints, cover the most specialized needs of each company
Complete window and friendly environment
The most complete and most simplified window program for small and medium enterprises and accounting firms in terms of how to manage Payroll by minimizing the time of familiarization and output of results from the application, especially when there is a need to process actions for a large number of customers - companies.